The South Asian nation offers a solid list of 10 reasons to visit Nepal. Nepal consists of diverse cultures, the biodiversity of flora and fauna, adventure sports, the highest mountains, isolated valleys, UNESCO world heritage sites, pilgrimage sites, delicious cuisine, and warm hospitality.
1. Natural Beauty:
One might wonder, "Why do tourists visit Nepal"? Nepal has been compared countless times to Switzerland for its impeccable natural beauty. Both are small mountainous countries with rich cultures. However, Nepal offers much-diversified culture, weather, and activities at a much lesser price. The mountains reign as the highest consisting of the Mahalangur Himalayas.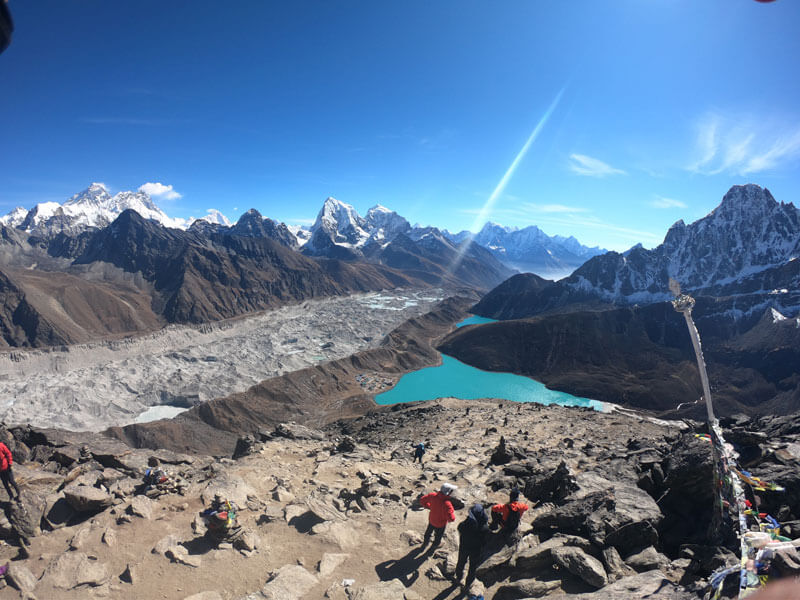 The world's most famous treks like Everest Base Camp, Annapurna Base Camp, and off-beaten adventures like Manaslu and Kanchenjunga Circuit reside in Nepal. Eat breakfast against the backdrop of the world's highest peaks. Take mountain flights to meet the face of the peaks to face. Paraglide in Pokhara to greet the sunrise at Machhapuchhre peak. Summit and trek at any peak you can point at in Nepal.
2. Rich Biodiversity:
The boon of biodiversity is situated in Nepal due to its incredibly unique geography of dramatic elevation and short span from north to south. Nepal shelters a total of 118 ecosystems. One of them is also a snow ecosystem rarely co-existing with forest ecosystems.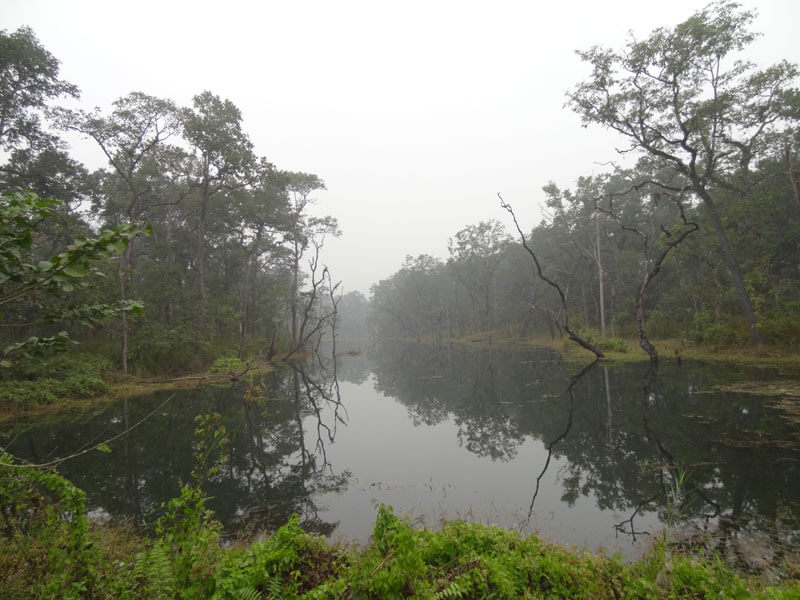 Nepal harbors the world's 3.2 percent of the flora and 1.1.percent fauna by occupying 0.1 percent of the global area. Tropical national parks like Chitwan National with the natural boundary of the Narayani-Rapti river system consist of more than 700 species of fauna and 50 species of flora. Sagarmatha National Park elevates 8000 meters and harbors the rarest species of snow leopard, Himalayan Thar, and birds like bearded vultures and snowcock.
3. UNESCO World Heritage:
Out of 10 UNESCO World Heritage sites, 7 UNESCO sites reside in Kathmandu, the capital. Roam around the expansive durbar squares of Kathmandu, Patan, and Bhaktapur. Explore architecture, scriptures, statues, and artifacts dating back to the Lichhavi era. Historical buildings like Naytapola, 55 windows palace, Krishna Mandir, and Kasthamandap have been in existence since the 3rd century.
Swayambhunath Stupa sits on the city's central hill, looking over to the expanse of Kathmandu; Pashupatinath gives blessings to honest prayers, and the architecture is speculated to have been in Nepal since the time of the Gopal era. Gautam Buddha's birthplace, Lumbini, features the Kapilvastu palace and a series of monasteries made by various nations.
4. Vibrant Culture:
The vibrant culture became the top reason why tourists visit Nepal. Naturally, a harmonious country, Nepal sees a beautiful blend of cultures. The capital, Kathmandu, became the 'salad bowl' of the nation, with ethnic cultures co-existing peacefully. Kathmandu homes Kumari, the living goddess of Nepal. One hundred twenty-five ethnic groups with 123 distinct dialects reside in Nepal.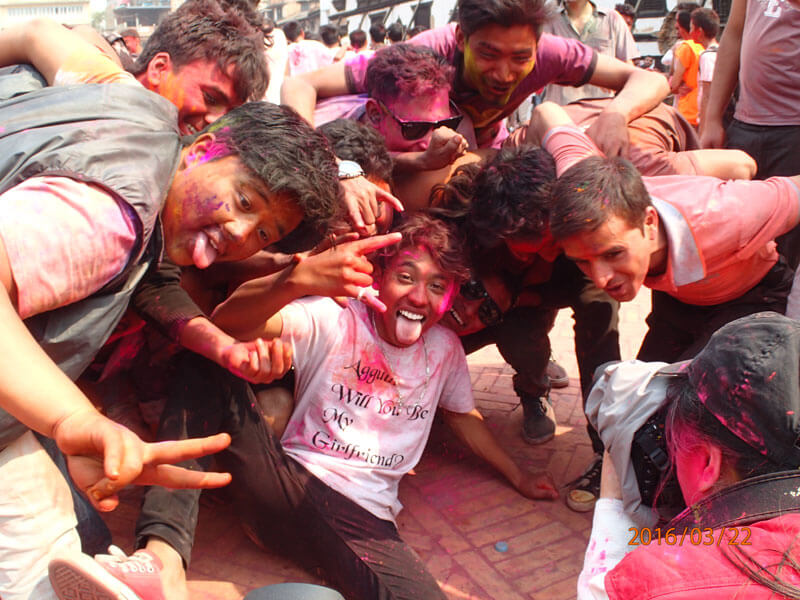 Despite having major religions like Hinduism, Buddhism, Islam, and Christianity, there have been no religious conflicts. The Nepalese have long worshipped nature as a tribute to its generosity towards them. There are festivals dedicated to the Tulsi plant, Pipal, and even snakes. Recent scientific findings of brash, copper, iron and clay pots as utensils and daily life tools were used here since the beginning.
5. Food Culture:
Out of all reasons to visit Nepal, exquisite food with good hospitality is why tourists extend their stay. Nepalese often remark, "Daal Bhat Power for 24 Hour Power". Their staple diet consists of Bhat (rice) with simmered Daal (lentil soup), the mix of carefully selected seasonal vegetables, and a dash of lip-smacking Achar (rustic sauce to please the pallet).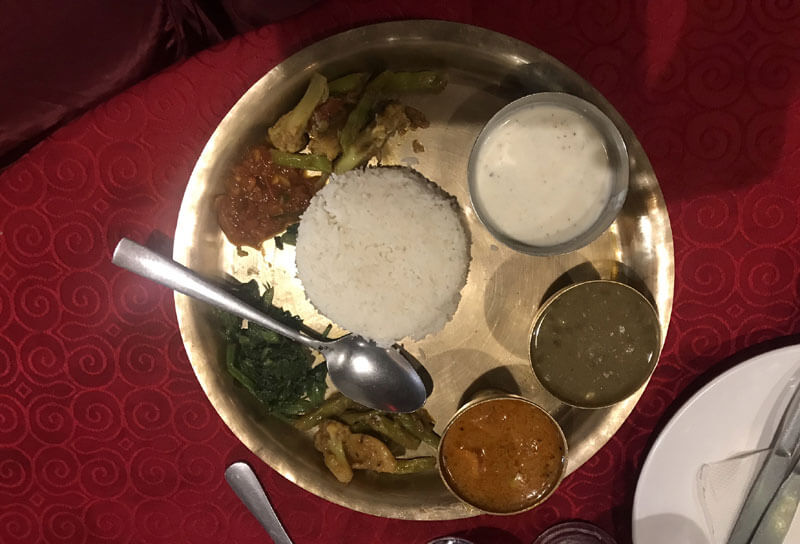 Find local cuisine like Newari food, Tharu food, Tibetan food, Maithili food, etc., anywhere in the city. Each dish has significance attached. For example, the Newar eat Yomari (a sweet delicacy made with rice flour and sweet Chaku filling) in December because it keeps the body warm. Locals serve with the biggest smiles because Nepalese love spoiling their guests with food.
6. Country on Top of the World:
Nepal reigns the world from atop. Aptly nicknamed "The Roof of the World," the highest peak globally, Mount Everest sits in Nepal. Everest, formally known as Sagarmatha, has an elevation of 8848.86 meters. First, Tenzing Norgay Sherpa and Edmund Hillary welcome about 20 000 climbers every year during the peak trekking season.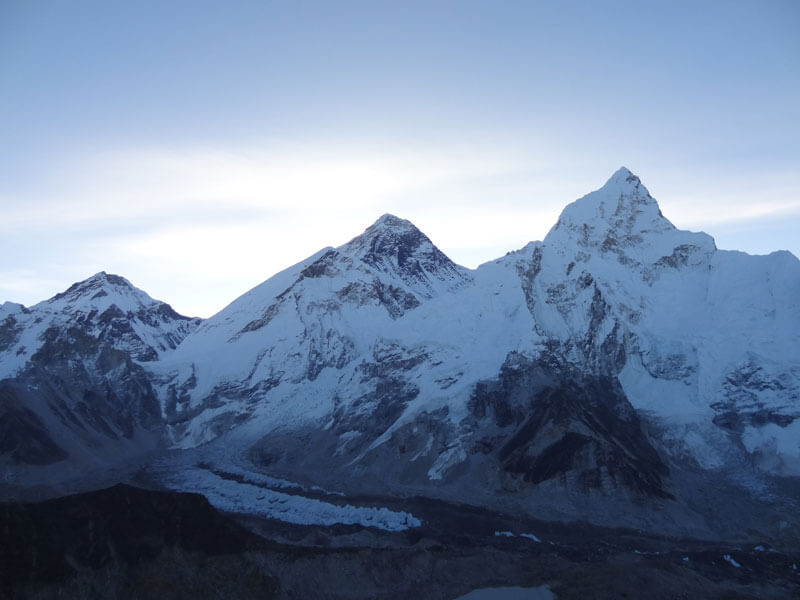 The highest lake in Nepal is the Tilicho Lake, also one of the world's highest lakes. Sagarmatha National Park also goes up to 8848.86 meters, formally being the highest national park in Nepal. Dho Tarap, situated at Dolpo, is the highest altitude settlement in the world.
7. Eight Highest Mountains In The World above 8,000m areas in Nepal
Mt. Everest (8,848.86m): Unmissable treks consist of Everest Base Camp Trek on foot or helicopter, Everest Three Passes Trek, and Gokyo Chola Pass Trek.

Kanchenjunga (8,586m): The third 3rd world's highest mountain Kanchenjunga is situated on Nepal and Sikkim's border. The off-beaten Kanchenjunga Circuit Trek and Sele La Pass Trek are accessed from the Nepal side.

Lhotse (8,816m): Lhotse, the world's fourth-highest peak, offers picturesque views from EBC Trek.

Makalu (8,485m): The fifth highest peak Makalu is located in the Mahalangur Himalaya, which offers Makalu Base Camp Trek and Sherpani Coal Trek.

Cho Oyu (8,188m): Cho Oyu sits 20 km west of Mt. Everest and is usually incorporated in the Gokyo Lakes Trek.

Dhaulagiri (8,167m): White beauty Dhaulagiri ranks seventh in the world. It sits entirely within the Nepali border, offering Dhaulagiri Circuit Trek and Poon Hill Trek.

Manaslu (8,163m): Ranking 8th, Manaslu (Sanskrit meaning: Mountain of Spirits) leads the Gorkha massif and offers the best off-beaten Nepal, the Manaslu Circuit Trek, and Tsum Valley trek.

Annapurna (8091m): Novice trekker's favorite Annapurna became the first successfully climbed eight thousand. It offers the world-famous Annapurna Base Camp Trek (also via Poon Hill Trek).
8. Lumbini, the Birth Place of Buddha:
Historically, Lumbini poses the world's most spiritual pilgrimage not just for Buddhists but also for all travelers seeking peace of mind, body, and soul. Buddha was birthed from Queen Maha Maya Devi in 563 BCE. Along with the Kapilvastu palace, there are several temples like Maya Devi Temple. The Pillar of Ashoka is the oldest known exchange of present Nepal-India relations. The Pillar was set to honor Buddha by the Emperor of the Maurya Empire.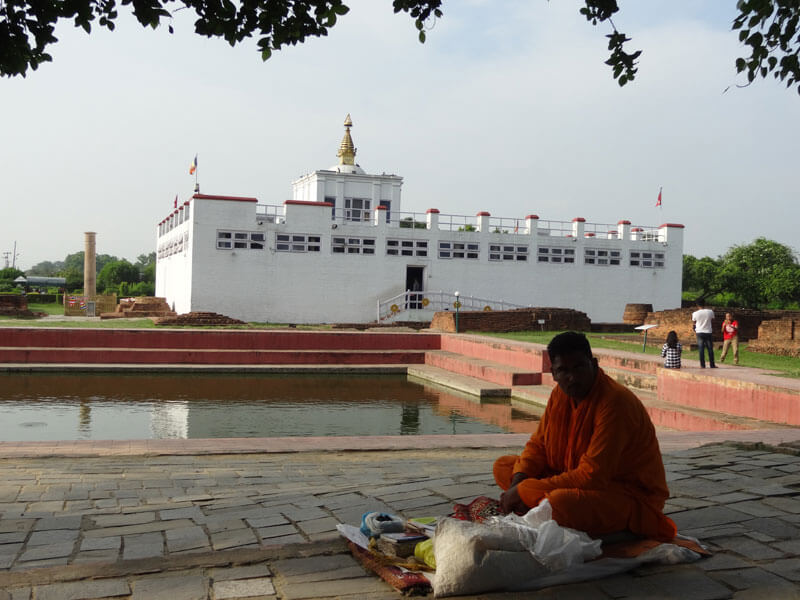 The Mayadevi Temple excavation showed radio-carbon dating back to 1000 BCE, giving proof of ancient human activity in the area. The area consists of ancient temples, a Bodhi tree, a pond, several monasteries on the site, and a Peace Pagoda built in 2001. Lumbini is one of the most important places to visit in Nepal.
9. Land of Tigers and Rhinos:
For animal lovers, national parks become the best destination. Nepal harbors exotic Bengal tigers and One-Horned Rhinoceros in the oldest national park of Nepal. Chitwan National Park, established in 1973, became a part of the UNESCO world heritage site in 1984.
The grassy plains and thick forest hones the honorable king of the jungle, the mighty Bengal Tiger. Through the immense process of conservation, Nepal succeeded in increasing the number of tigers to over 200.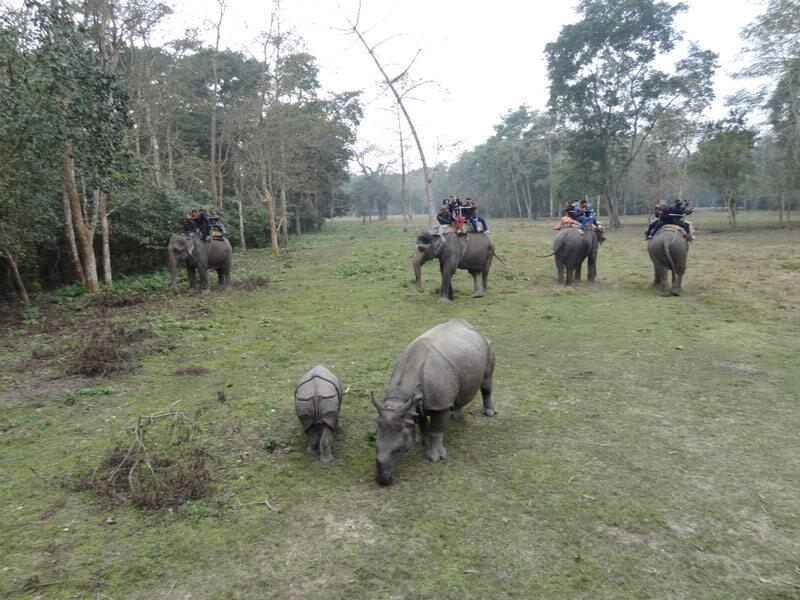 One-horned bill and other exotic species of birds find the park their abode. The park offers jungle safari and canoeing in the Rapti River to observe protected Gharial and crocodiles. The park is situated near Sauraha, the local area of the Tharu ethnic community.
10. Pleasant Weather:
One of the reasons to visit Nepal is to experience diverse climates from arctic to tropical presiding. Amazingly, one finds such a diverse environment within a distance of 180 km. The untamable mountain ranges with their river valleys, gorges, and glaciers showcase various climatic zones. Such variety increases the diversity of habitats present in the region.
Nepal receives a diversified climate based on humidity and temperature. The weather, influenced by the climate, displays rainbow attributes in every corner. Tourists access Nepal all year mainly because there is always a place with the perfect weather. The Himalayan region and Terai region usually get an end. In the spring season (March-May), these places bloom with ample sunlight, a cool breeze, and perfect scenery.
Frequently Asked Questions about Nepal
1. How Many Tourists Visit Nepal Each Year?
Thinking about how many tourists visit Nepal each year? Shockingly, an average of 1 million tourists visit Nepal every year without fail.
2. How to Visit Nepal?
Tourists access Nepal via air or land transport as Nepal is a landlocked country.
3. Where to Visit Nepal?
Although Visit Nepal 2020 was halted due to the COVID-19 pandemic, travel resumes. Nepal sees an influx of tourists to places away from the capital.
4. How Many Days to Visit Nepal?
Why visit Nepal may be a question, but once a traveler tastes Nepal's air, they delay going back. Trips may last from a mere three days to months, depending upon the time, place, and activity the visitor is keen to try.
5. Why Should I Visit Nepal?
Nepal takes you on a ride of thrill, spiritual cleansing, and amazement upon every visit. So, why should you visit Nepal? Well, whatever you look for, you find it in Nepal.
6. Documents Required For Nepal Visit
A valid visa (even an on-arrival one), passport, citizenship of the home country, a PCR report was done within 48 hours before arrival, and a recommendation letter from the embassy.
7. Is Nepal Worth Visiting?
No doubt, 'is Nepal worth visiting' is the wrong question. Instead, travelers search for how many days to visit Nepal because it is not worth missing out on!
8. Reasons To Visit Nepal:
Fantastic touristic destinations, good food for a good mood, and the best hospitality in the whole world--Nepal offers them all at once!
9. Why Should You Visit Nepal Once In Your Lifetime?
Reasons to visit Nepal become endless, but it's the country's beauty and uniqueness that leaves the travelers making memories of a once in a life experience.